Central Park
Nestled in the heart of Ellerslie's business district, Active Explorers Central Park is the ideal home away from home for busy families who work in the area. Fully renovated in 2015, our centre offers state of the art learning resources, spacious vibrant rooms, and fantastic new outdoor play areas.
With a strong team of dedicated teachers, three separate rooms for each age and stage, and separate outdoor spaces for under and over 2s, we have everything your child needs to have fun, learn and thrive.
Seeking the best start for your child? Contact us today!
Centre Information
Centre Hours:
Monday - Friday
Full Days: 7.30 am to 6 pm
Saturday, Sunday & Public Holiday Closed
Ages Catered For:
0 to 5 years.
Centre Capacity:
Under 2 – 24 children
Toddlers – 20 Children
Pre-School – 30 Children
Healthy Heart Bronze Award
I just wanted to thank you and the teachers so much for all your help with Bethany and Daycare. You all are so wonderful and attentive. She has grown leaps and bounds just from being there with you all in the past year. Thank you again for all your help and hard work with her. xox God Bless.
I would like to mention that he had such a great time and lot of learning in your centre. You and your teacher's are doing great work in making centre a fun and vibrant place for all the children. Tejas has gained so much confidence and this make us all proud. Keep the good work up.
Shakira had a great start on her first day at primary school yesterday without an orientation! Huge thank you to the team for being part of Shakira's learning journey. Shakira has developed her social skills, independence, speech and learning to share with the other kids at this centre.
Being a busy parent is important to choose a daycare that will make a big impact on your kids learning journey and I will highly recommend you to any of my friends and work mates.
Apologies for the late comment regarding mothers day but I wanted to say a huge thank you! It was my third mothers day celebrated at the centre and the staff and children always put in an amazing effort, this year was fantastic! The picture wall was a huge highlight. 
Mellisa and Nathan Belleville (Charlot and Connor's Parents)

What's On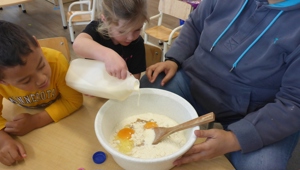 Earlier this week the preschool children made pikelets and pancakes for afternoon tea.