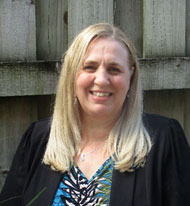 Anna Barnard
Centre Manager
Hi everyone! My name is Anna Barnard and I am the Centre Manager at Leaps and Bounds Swanson.
Originally from South Africa, I have been in New Zealand for more than 10 year working in ECE. I have had more than 20 years of experience in Early Childhood and I have loved every minute of it.
I am happy to be here with an awesome team of teachers in our beautiful centre. I am a conservationist at heart and can't wait to be involved in our Community Garden and learn more about the bi-cultural history of this area.
I believe that children are the soul of a community and I am so lucky to have the opportunity to play a part in their growth and development, hopefully inspiring them in some way.
I have three wonderful children and I appreciate the vital role parents and whānau play in every child's life.