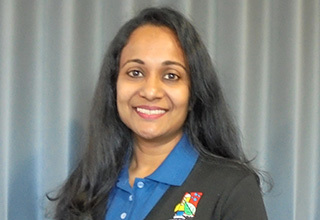 Anjana Andrews, Centre Manager
Anjana tell us a bit about yourself.
Namaskaaram, Hello, Kia Ora, my name is Anjana. I come from the beautiful South Indian state of Kerala and I live in Auckland with my husband and our daughter. I was a secondary school teacher in my home country specialising in accounting and business studies and after moving to NZ I got inspired by the ECE education system here. I have worked with Evolve for the past few years and feel proud to advance my career with them.
When did you start your career in early childhood?

My journey in ECE started in 2008 and I worked across different age groups from babies to preschool.
What parts of the job do you most enjoy?
I enjoy every moment I work with the children and I am proud to be part of their learning and development. I love documenting each child's learning journey in their portfolios and feel proud to display their interests and engagement in learning experiences through programme planning and curriculum design. Being the Centre Manager, I enjoy working with my team by supporting and guiding them and doing my best for the whole centre.
What is your ECE philosophy?
My vision and philosophy as an ECE teacher is to see the children happy and thriving in a nurturing, enriching and stimulating environment. I am deeply influenced by the sociocultural theory of development and believe that children's learning is largely a social process and influenced by social interactions, surroundings and cultural factors.
more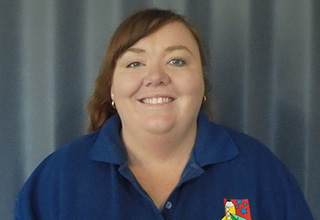 Joanna Moreland, Head Teacher – Tuakana Room
Kia ora, 
Ko Joanna ahau, I am the head teacher in the Tuakana room here at Active Explorers Blockhouse Bay. I gained my Bachelor of Teaching (ECE) and have been working in centres here in New Zealand and overseas for about 14 years. I am passionate about providing high quality early education for all children in a home away from home environment, where children and their whanau feel a sense of belonging and acceptance. It is a privilege to be part of such a warm, welcoming and friendly learning community full of passionate and committed professionals.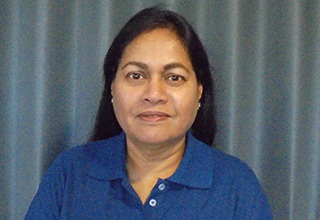 Sandra Gomes, Teacher – Tuakana Room
Hi! I am Sandra Gomes. I am a registered teacher in the Tuakana room and I've been working in ECE since 2004. I love working with our tamariki and assisting them in developing their inborn potential so that they have a strong foundation and smooth transition to school. I value working with whanau so that we can help to meet their aspirations for their child. You can always approach me for feedback on your child's day.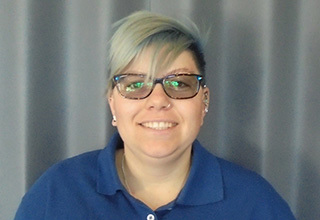 Laura O'Grady, Teacher – Tuakana Room
Kia ora, my name is Laura and I have been involved in early childhood education for more than five years. My passion for working alongside children is watching them grow and develop, creating special moments through conversation, imagination and friendship. I really enjoy music and singing which I try to incorporate within my teaching every day. I enjoy the joy and wonder early childhood education has to offer, and I feel privileged to be a big part of a child's early development years.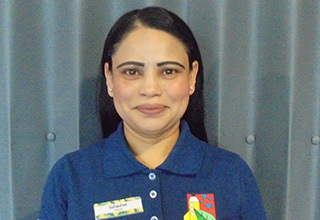 Subashni Raju, Teacher - Tuakana Room
Namaste. Bula, I am Subashni and I am from the beautiful island of Fiji. I live with my husband and our daughter. I have done my Level 5 Diploma in ECE and have over eight years of experience working with young tamariki. I am very passionate about the learning and development of young children and love to work with both under 2s and over 2s.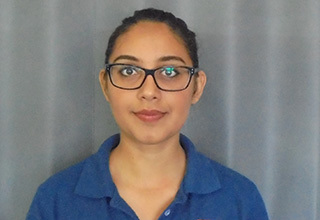 Auleen Kaur, Teacher – Tuakana Room
Hi, I am Auleen and I am qualified teacher with a bachelor's degree in ECE, specialising in Reggio Teaching. I have been working in early childhood for four years now. I am a very passionate teacher who is dedicated to providing a stimulating and challenging environment which encourages courageous play. I believe strongly in creating an environment which nurtures a child's natural curiosity and sense of wonder for the world through beautiful, creative and ritual based activities. I love working with families and believe in the strength of whanau support and connection. In my spare time I enjoy reading, sketching, camping, travelling and long walks at the beach.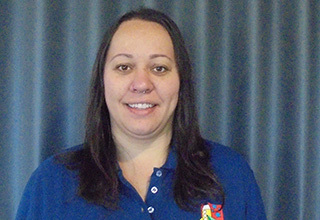 Teresa Takimoana Everiss, Head Teacher – Teina Room
Kia ora! Ko Teresa ahau. I am a qualified, provisionally registered Kaiako and head teacher in the Teina room. I have two beautiful tamariki - Madison and Caleb.  I am passionate about early childhood education and working alongside whanau to support their child in their learning journey.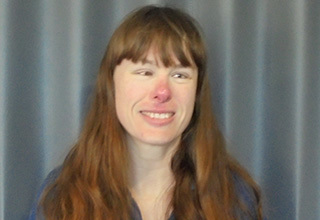 Lee Williams, Teacher – Teina Room
My name is Lee. I have been working at this centre for almost eight years. No children of my own yet but I love hanging out with my nephew. I love speedway, travelling, live music, going to art exhibitions, and watching my footy team.

Sue, Teacher - Teina Room
Hi, I'm Sue. I have been working in ECE for the past few years across different age groups. I am very passionate about children's learning and development and I love seeing them grow and learn every day. I love making a difference and contributing to children's learning and experiences. I enjoy the outdoors, spending time with my family and friends, and travelling. I also love reading, listening to music, playing guitar and going to the gym.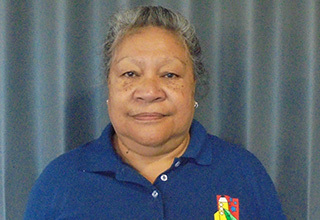 Rae Tavalu, Centre Cook
Faka lofa atu. Hi, I am Rae the centre cook. I am a mother of five children and a grandmother as well. I love cooking healthy and nutritious food for our tamariki.