Audreyanne Ormond , Centre Manager
What inspired you to become an early childhood teacher?
I have always been naturally drawn to working with tamariki. My Dad was a primary school teacher so growing up I always admired what he did and how he was with children. I dabbled in a few different tamariki based career paths before setting my sights on ECE. I trained as a nanny, did some courses in youth/social work before I enrolled at Otago University to study education. I've been working in the ECE sector since 2010.
What do you love most about what you do
I love it all, the good with the bad, the successes and the challenges. I love working with a team of passionate teachers and I love how education is constantly evolving. It is a very satisfying sector to be a part of.  
What is your favourite time of the year at the centre, and why?
August/September – we attend Polyfest every year and we love all the hype, practicing the singing, the dancing, hearing the haka echoing down the halls. Seeing leaders emerge, confidence grow! We always celebrate this event with a whanau morning or afternoon tea (inviting all parents, whanau back to the centre) to celebrate all the efforts. It takes a lot of courage to take the stage and perform for a room full of people so the sense of achievement for our tamariki is amazing!
more
Fabienne Hamill , Team Leader Under 2s
Kia ora, my name is Fabienne Hamill,
I am excited to be leading the wonderful Under Two's team at Active Explorers.  I have been working here since 2010 spending some time in each of the rooms but the majority being in the Under Two's which is my passion.  I have a graduate Diploma in Teaching (Early Childhood Education) from Massey University as well as a Bachelor of Science in Psychology from Otago University and am fully registered.  
I live on a farmlet with my husband Brett and our two beautiful girls Lily and Darcy.  My interests include horse riding, movies, reading, being outdoors and spending time with family and friends.
I look forward to getting to know all the children and their whānau and am excited to be a part of their lifelong learning journey.
Sarah-Jane Davis, Team Leader – Kea Room
Kia ora whānau. My name is Sarah-Jane Davis and I graduated from the Southland Campus of the University of Otago in 2005. I am the new team leader in the Kea room and I am looking forward to the challenges this will bring.
I have three children - Fabian, Shanon and Paris and two grandchildren - Sofia and Mason.  In my spare time,  I love to spend time with my family, play netball, read and renovate my home.
I love working with the age group in the Kea room – the tamariki are very active and busy and just so much fun!  I really focus on language/communication and social skills and strategies, as these are a huge part of our children's development during this stage.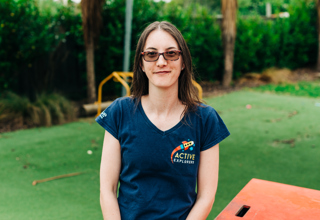 Staci Lind , Team Leader - Pukeko Room