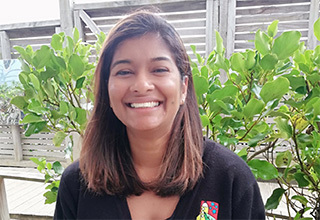 Sue-Ellen Menezes, Centre Manager
What inspired you to become an early childhood teacher?
I loved working with children and seeing the difference I could make to their lives, so I decided to make a career out of it! I've been in this sector for 13 years now.
What do you love most about what you do? 
I love being able to create an environment for children that supports learning and builds resilience. These are skills that give children confidence and will serve them well throughout their lives.
What makes Active Explorers Camrose special?
We are privileged to have really big outdoor spaces where children can develop physically, and our indoor spaces are airy and bright. We also encourage our children to work with authentic materials like glass teapots and real carpentry tools.
What is your favourite time of the year at the centre?
I especially love Christmas. Everyone is excited and there is such a sense of community as everyone is working together to spread the festive cheer around.
What is your personal ECE philosophy?
Creating environments that foster competence and curiosity and encouraging skills that build resilient children.
Bachelor of Arts, Trained Montessori Teacher, Graduate Diploma in Teaching -ECE
more