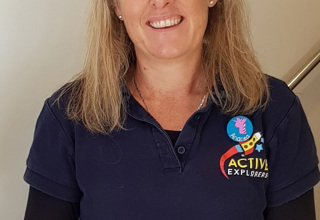 Andrea Louw , Centre Manager
What inspires you about working within the ECE profession?
Nurturing, guiding, and supporting children has always been a natural passion of mine from a very young age. Growing up, travelling as a young person, volunteering, or within my profession, I have always been drawn to wanting to make a difference in the lives of children.  My passion led me to gain a degree in Psychology with recent study towards a Master's in Educational and Developmental Psychology which has only reinforced my desire to want to positively influence children's education during the most critical years of their growth and development.
What do you love most about what you do?
I am a strong advocate for providing opportunity for all children to thrive at each stage of their development to foster lifelong learners.  I just love seeing children's potential unfold as they are encouraged to recognise their strengths and learn skills to problem solve and build relationships with others.
What is your favourite time at the centre?
Every time I see children experience success whether it's achieving a milestone, overcoming a challenge, problem solving, positive expression or making a new friend, I feel joy, and experiencing joyful moments are my favourite times at the centre.
What is your personal ECE philosophy?
Children learn more by what they see and how they are made to feel than by the words they hear, therefore I believe personal values of integrity, kindness and respect for others is a responsibility of adults to role model to children to instil confidence and belonging that when nurtured will grow confident competent learners that have a strong sense of belief in the positive contribution of their abilities and their value to the world around them.
Where can we find you when you're not at work?
I love to spend time with my husband and 3 children.  We are quite an active family and love the outdoors and having a BBQ every weekend. I also love running and spending time in nature.
Bachelor of Science (Psychology)
more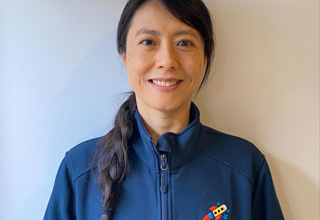 Liu Renee, Assistant Manager/Head Teacher - Manuka Room
Ni Hao/Kia ora/Hello whanau,
My name is Renee Liu and I am originally from China. I moved to Auckland New Zealand in 2006 where I studied early childhood. I am a fully registered teacher with a Graduate Diploma in teaching (ECE).
I live with my large and sweet whanau which contains three generations and three immediate families. I love to dance, hike, and travel with my whanau and hoa (friends) in my spare time.
I believe that where I grew up, where I learned and where I live has nurtured my heart and my beliefs, which is creating respectful, responsive and reciprocal relationships with tamariki alongside their whanau to support their early development and learning.
In the last thirteen years of my ECE career, I have been stimulated by my beliefs, passions, and growth mindset to work alongside tamariki. I am looking forward to working alongside you and your whanau.
Xiexie/Kia ora/Thank you!
more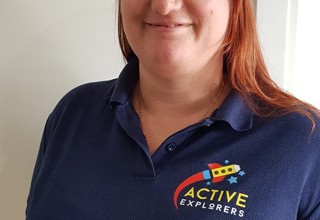 Tanya McCool, Administrator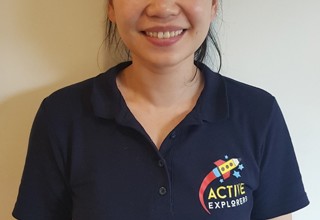 Rachel Situ, Centre Cook
Hello/ Nihao
I am Rachel the Centre cook, I come from Guangdong China and have been living in New Zealand since 2006. I have more than 10 years working experience in the hospitality industry. I am so grateful to be a part of such a good team and to work with the lovely teachers and smiley kids. My philosophy is to provide children with healthy nutritious tasty food, which is the essential energy to assist kids to play and grow.
Pohutukawa Room (Preschool)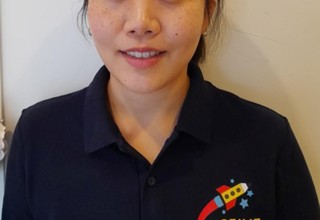 Cara Han, Teacher (Registered) - Pohutukawa Room
Kia ora, Annyeonghaseyo, 
I am originally from South Korea, but I came to live in New Zealand in 2001 with my family. My previous degree was in Bachelor of Arts and my major was Japanese and minor was Chinese. I hold a teaching degree from the University of Auckland with Graduate Diploma in Teaching (Early Childhood Education).
I am married and have two boys. I feel at my happiest when I watch the children grow hence, I love the precious moments teaching and learning together with children. I look forward to teaching and learning and growing with your children/whānau. When I am not at Active Explorers Camrose you can find me… cooking, singing, dancing with my two boys and taking walks with my family. 
more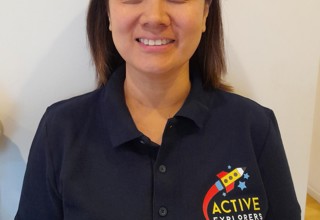 Carmella Nazario, Teacher (Registered) - Pohutukawa Room
Mabuhay/Kia ora/Hello! 
I am Carmella Nazario from Manila, Philippines. I studied Child Development and Education and have a Master's degree in Basic Education and Teaching. I have been a primary teacher for 22 years. My teaching career in the Philippines has shaped my teaching philosophy and I am grateful to be able to work in ECE at Active Explorers to further grow as a teacher. 
I believe that children learn not only through their minds but also through their hearts. Children learn when they feel happy and safe. They learn by doing and observing. My teaching philosophy is to journey with the children in discovering their strengths and weaknesses and build on these so that they can be independent, resilient, respectful, and empathetic individuals. 
I recently moved to Auckland with my lovely whānau. We miss our extended family and home but we are excited to explore New Zealand, our new home. 
There are plenty of things to discover in this totally new environment and I hope to be able to use all of these new learnings and integrate these with the wisdom that I have gained as a teacher, mother, partner, and friend.  
I believe that no matter how different we may be, we speak the same when it comes to what we love and value, our family. 
more
Kowhai Room (Toddlers)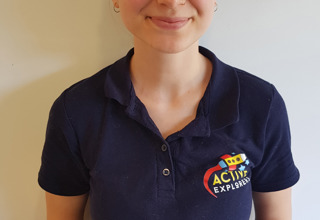 Tiana Bishop, Teacher (Registered) - Kowhai Room
Nga mihi nui (greetings to all),  
I am Tiana, I am a kiwi and love our beautiful country. I have grown up in a family of six and I love having a big whānau. I enjoy running, cooking and op shopping, and I'm currently learning how to snowboard. I like to keep active and catch up with friends on the regular!  
I have a Bachelor of (Primary) Education degree which I graduated in 2022. While studying I was working part time in Early Childhood and found myself enjoying work much more than I expected! I was so delighted in the joys and curiosity of young children. I was fortunate to find a beautiful centre with an aligning philosophy to join.  
 I believe that by creating a safe and engaging environment, we can support the growth of a child. Spending quality time to build up trust is an essential foundation. As once a child knows that they're safe and their needs are met, they can explore, show curiosity, experiment, play and learn to interact with others and their environment! Therefore, I prioritise showing lots of Aroha to our Tamariki to develop a healthy, reciprocal learning relationship. I am excited to continue this journey of learning with the children in Kowhai Room. They're at a vital stage of their development, so it's important to me to give them my best by continually evolving my pedagogy. 
more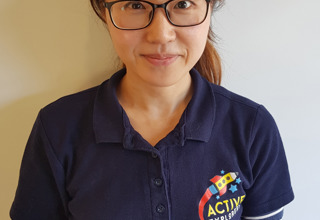 Lina Park, Teacher (Registered) - Kowhai Room
Kia ora, 안녕하세요 (Annyeonghaseyo),  
I am Lina Park. Originally from South Korea, I moved to New Zealand in 2002. I feel very privileged to live in such a beautiful country and work with such lovely children. I am a NZ-trained and fully qualified teacher and have joined an amazing teaching team at Active Explorers Camrose since beginning of 2021. 
What I love about teaching is that every day is different and that each child is unique with different abilities and potential. Therefore, I believe my job as a teacher is to nurture and encourage their inborn abilities and strengths. I also believe the importance of the environment as the third teacher. I believe children thrive in environments that are suited to their interests and developmental stages. 
Manuka Room (Infants)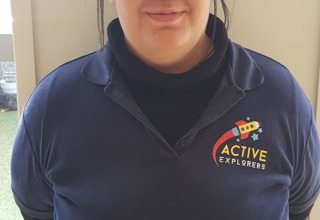 Reilly Puohotaua, Teacher in Training-3rd year - Manuka Room
Kia Ora koutou, 
I am Reilly Puohotaua. I am about to enter my final year of ECE studies at Massey University. I have worked at Active Explorers Camrose for a little over a year now and have had so much fun interacting with the tamariki, watching them learn, explore and grow together. Seeing their smiley faces every day is what brings me joy  
"For babies to thrive, they need a calm, nurturing environment where they can establish strong connections and build loving, trusting relationships." My values when working with infants are to ensure they feel a sense of belonging, sense of respect and to feel like their environment is calm and nurturing to build trust and respect between their teachers and friends.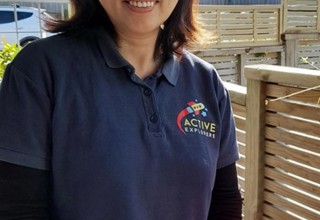 Sherry Sun, Teacher (Registered) - Manuka Room
Kia ora, 
I am Sherry. I am a fully registered teacher with more than 15 years working experience. I originally come from China, and I am a mother of two teenage boys. I enjoy working with children. I strongly believe that when children feel secure, loved, and respected, they have confidence to reach their full potential. Having a good relationship with children and families is an important part of my teaching practice, enabling me to effectively support children in their learning and development. 
I am looking forward to being part of your child's learning journey and getting to know you, your child and whānau.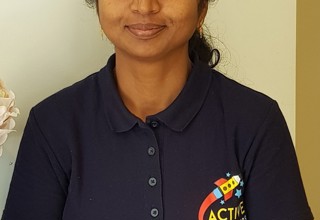 Lakshmi Cheemakurthi, Teacher - Manuka Room
Namasthe/Kia ora whanau,
My name is Lakshmi. I am from India where I studied engineering as my major. I came to New Zealand 9 years ago. I have two kids, My daughter is 8 years old and my son is 5 years old. I am passionate about working with children and helping them to reach their full potential. I believe children's early stage of life is so crucial to the adult they will become, every child has unique characteristics, and my role is to provide a safe and enriching environment for them to learn and grow.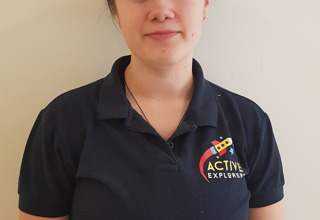 Kayla Potter, Teacher in Training
Kia Ora everyone,
My name is Kayla. I am from New Zealand and love spending time with family, going to the beach, and cooking. At the moment I am currently studying a bachelor of education in primary alongside being a student teacher at AEC. I enjoy working with children and being able to see the progress and development they make over a period of time. I believe having a good relationship with the children and their parents is vital. This enables me to effectively communicate and support the children's learning and their development.