Active Explorers Cambridge Terrace
our story
Active Explorers Cambridge Terrace is a centre that is uniquely situated on the top floor of the Harcourts building on Cambridge Terrace in Central Wellington.
Our centre environment encourages a collaborative and respectful approach between anyone who is involved with a child's learning and development.
Our philosophy embodies the RIE and Pikler teaching practices and the Early Childhood Curriculum, Te Whāriki (Ministry of Education, 1996).
We acknowledge the environment is an integral part of the children's curriculum and this needs to be challenging, stimulating, safe and happy so that children can learn through their play
Our centre fosters a warm responsive and reciprocal environment between staff, parents/whanau and children in which we value and respect the importance of parents as 'first teachers'
Our centre prides itself on the warm reciprocal relationships between parents/Whanau/Staff and children. The children enjoy and look forward to their time in the centre, and the staff are always welcoming, happy, supportive and proactive. We pride ourselves on the cultural diversity, and Tuakana Teina relationship (an integral part of traditional Māori society, providing a model for buddy systems) and the uniqueness and experience that this brings to all of us.
Our centre is very safe and secure, and is centrally located - which is a safe haven for a lot of families who work in central Wellington.
ERO Report
The Education Review Office (ERO) is the New Zealand government department that evaluates and reports on the education and care of students in schools and early childhood services. ERO's reports are used by parents, teachers, early childhood education managers, school principals and trustees, and by government policy makers.
Early childhood services are reviewed on average once every three years. Reviews will be more frequent where the performance of a school or centre is poor and there are risks to the education and safety of the students, or less frequent where a school has a stable reporting history and demonstrates good self-review processes and use of its assessment information.
You can read our centre's ERO review here.
centre information
Centre Hours:
Monday to Friday: 7:30 am – 6:00 pm
Half Days/Full Days
Saturday, Sunday & Public Holiday: Closed
Ages Catered For:
0 to 5 Years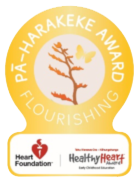 thank you all for how you guys have cared for the boys, it's been a privilege!

I would like to take this opportunity to thank yourself and every single staff member at I-Kids; in particular, the Junior Centre Teachers for their amazing commitment and care to helping support and educate Reid.

Reid has enjoyed his time here and flourished, he will miss all his buddies and teachers immensely.

Again, thank you for all the great help and support you have all shown to Reid and myself.

Thank you all so much for the wonderful care provided to Sebastian and Nathaniel.  When we found that we had to return to Wellington for a few months we had no idea how the boys (or us) would cope. I-kids on Cambridge was a godsend, and the boys didn't want to leave. We wish there was an i-kids in Rarotonga.

Please pass on our warmest regards to all the teachers and helpers there who are totally amazing with our kids. Their hard works are deeply appreciated.

Thanks, Rachel! You are an amazing person. We really miss you all!