Broadway
Conveniently located in the heart of Palmerston North, Active Explorers Broadway gives peace of mind to families who work in the CBD. Our spacious, sun-flooded rooms hum with exciting learning and fun, and our highly experienced teachers are passionate about tapping into the unique potential of every child.

Warm and welcoming, our centre is purpose built for learning in the early years and is equipped with everything your child needs to grow and thrive.
Give your child the start they deserve. Visit us now at Active Explorers Broadway.
Centre Hours:
Monday to Friday: 7:30 am – 6:00 pm
Closed Saturday, Sunday & public holidays
Ages Catered For:
0 – 5 Years
It has been awesome watching Bella learn te reo Maori, listening to her speak so confidently and clearly. You also teach her new songs that she often comes home and shares with me. 
It is awesome when I pick her up and she is outside having lots of fun. She is happy and always loves the water play experiences on offer. I love that she gets to experience different trips and outings in the community, and I am excited for the school trips that she will have as she gets closer to the big transition into school and meeting her new teachers. 
You have nurtured her creative side supporting her as she expresses herself through art, music, dance and storytelling. 
I have seen her grow into the confident and competent wee girl with the teachers that are always ready to listen and really care for us as a family.  
I have had my daughter, Lilly, enrolled at Active Explorers on Broadway for a little over a year ago, at the age of 1yr.
There were a few elements that were really important to me when choosing the right place for Lilly, having food provided was a big one and when I walked in and saw the range of food that was provided to the kids I was excited and then as soon as I walked into the babies room and feel within the space I was sold.
Lilly started in the babies room and progressed to the toddlers, and during this time I have seen her develop and grow so much and this, I believe, comes down to the hands on approach of the teachers and the passion they have to ensure that all the children get the best guidance to meet their own personal needs and not just a blanket approach.
From the moment you walk through the door you are greeted with a warm smile from behind reception and once you get into the room.
Recently I have been struggling with some of the behaviors my daughter has been showing (they call it the terrible 2's for a reason) and the teachers in her room have been so supportive and understanding of some of the changes I have asked to be put in place to assist with this transition and without any question.
I would highly recommend Active Explorers, Broadway to anyone
As a busy working mum, I needed somewhere I could 100% rely on to look after my daughter just as I would at home. I am so happy with my decision of choosing Active Explorers Broadway, the teachers have gone above and beyond caring for my daughter who suffers from eczema, and for food and nappies to be supplied, makes my life A LOT easier! What she has learnt at daycare astounds me, she is always coming home excited with what she has learnt that day, the education programme rocks! Thanks Active Explorers Broadway Palmerston North for making my life so much easier, you guys are awesome! 
Kylie O'Loughlin
Broadway
The staff at Active Explorers Broadway, Palmerston North have played a big part in the lives of two of our children.  They have flourished under the care, support and learning opportunities and experiences provided by their teachers.  Nathaniel continues to grow and thrive in his surroundings with teachers who genuinely care and want the very best for him by providing a safe and loving environment.  We highly recommend Active Explorers to parents who are looking for a warm, friendly, inclusive setting with professional staff to care for their children.
Kelly, Mark and Nathaniel
Broadway
We are the parents of Katelina Renee Lim who is in the Tui room. She happily comes home with a great attitude and she has such a wonderful growing intelligence. Her manner we have especially noticed that she likes to read the books and speaks like an adult. As we have busy lifestyles we definitely will not get through this without Active Explorers Broadway and all the amazing teachers who are very passionate with the children and skilled, helpful, and friendly, it such as a safe second home to our children.
The biggest draw card for me in choosing Active Explorers Broadway was the teacher child ratios. It meant my son was not lost in a corner of a large building or competing with 100 other kids for attention. The teachers are fantastic, very caring and really take the time to get to know the children and build relationships. My son has been very happy there which makes my day easier knowing he is enjoying himself and being looked after well. The story park updates keep you so update with their monthly or day-day activities with the extra individual stories which show how much the staff are doing to develop our children intellectually.
News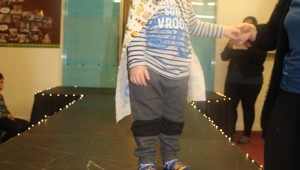 Active Explorers Broadway have a new tradition that climaxes the Matariki celebrations - a wearable arts evening!